Since reading novels have been one of my hobbies, I usually start the year looking at the top ten books of the previous year to check out those that I might have not considered. This usually happens if the book did not make the best seller list (especially on a year when a Harry Potter book is released) or did not make it to Oprah's Book Club. There are several media organizations that come out with their own list every year. Each one seems to have their own criteria. Except for Rowling, there were no famous writers that came out last year like Ishiguro or Rushdie. So, I decided to take Entertainment Weekly's list which was more lighthearted and seems to fit into a normal reader's taste.
Entertainment Weekly critic, Jennifer Reese, honors the following books in 2007 which she believes is worth the read. I will provide details on the top 3 and just enumerate the rest.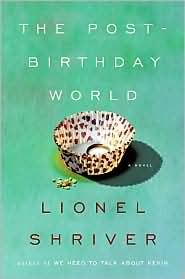 The top spot goes to Lionel Shriver's "The Post Birthday World." This novel tells the story of Irina McGovern who discovers herself torn between two men: her serious, responsible and boring partner, Lawrence, a self-made intellectual who works at a London think tank; and their mutual friend Ramsey, a world- class snooker player, who is romantic, charming and self-absorbed. In alternating chapters, Shriver lays out Irina's two futures: one in which she stays with Lawrence, and one in which she leaves to marry Ramsey. Shriver playfully suggests answers, only to snatch them back again. Which was the better choice for Irina — the steamy lover Ramsey or the steady companion Lawrence? Neither plot ends the way the reader — or Irina — might expect. Though I have never been a fan of romantic novels, it would be interesting to read something about the road not taken. Wouldn't it be great if we can look ahead of our options to find out how each one turns out?
The first runner up is "Shakespeare's Kitchen" by Lore Segal (not the cookbook).
The novel is disguised as a book of short stories with the author explaining that in a good plot, nothing happens that is not a result of what happened before nor a cause of what happens next. The story revolves around a gregarious New Yorker Ilka Weisz who takes a job at a small-town Connecticut and worries she'll never find new friends. But Ilka is quickly embraced by an insular clique of intellectuals who drink martinis, obsess over poetry prizes, philander, and gab about it all nonstop. It starts off as fizzy academic comedy. By the time you realize that you're actually reading a novel — and that it's profoundly sad — this sneaky, splendid book is over.
Next one on the list is Joshua Ferris' "Then We Came to an End." This dazzling debut consists primarily of the rumor peddling, flirting, and time wasting familiar to most white-collar drones. "Every agency has its frustrated copywriter whose real life was being a failed novelist working on a small, angry book about work," the narrators tell us. This is a large, generous book about work. The characters of the story cope with a business disaster in time-honored tradition which most of us desk-job workers understand: through gossip, secret romance, elaborate pranks, and frequent coffee breaks. This wickedly funny, big-hearted novel about life in the office signals the arrival of a gloriously talented writer.
Check out the rest of the list.
4. Last Night at the Lobster by Stewart O' Nan
5. A Free Life by Ha Jin
6. On Chesil Beach by Ian McEwan
7. The Gravedigger's Daughter by Joyce Carol Oates
8. Out Stealing Horses by Per Petterson
9. The Brief Wondrous Life of Oscar Wao by Junot Diaz
10. The Terror by Dan Simmons
To all booklovers out there, which one catches your interest? I think I will try out number one first. Then maybe Joshua Ferris' novel will help me look at my work in another perspective. Nothing matches a funny book that will make you laugh at yourself. As soon as I finish any of them, I will post my recommendations.